The Alberta 5 Pin website has added about new 100 pictures to it's Wall of Fame section of the Open and Youth Challenge events.
Do you have pictures of a winning team from a competition found on that website?
If so compare your picture with what we have (or don't have) and if yours is a better picture, please send them to [email protected] or Tim Wiseman
When submitting a picture, please
Check that we don't already have it on the site
Identify the event,
The season,
Members of the team shown from

back row to front row
listing bowlers from left to right

include coaches/manager names if you have them
We will add some of those pictures to the Central site in due time.
In the meantime here is a great example featuring Central's 1993 Provincial Aggregate Open Champions, some of whom are still competitive today.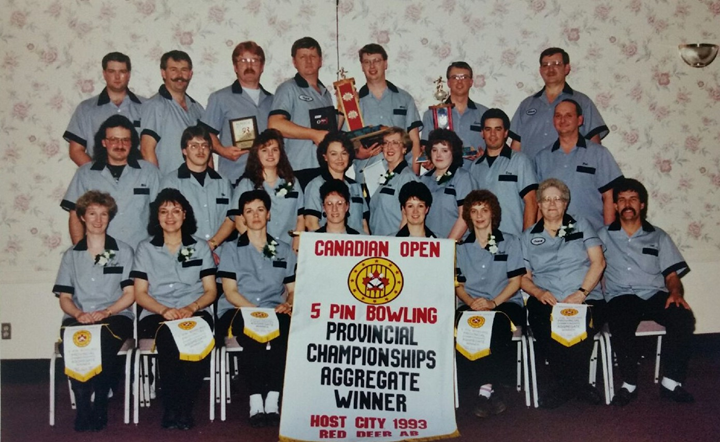 1993 Alberta Open
Central Zone – Provincial Aggregate Champions
Back L to R: Kevin Holdsworth, Eric Andersen, Jan Andersen, Ed Gabrielson, Mike Tweedy, Lawrence Fobert, Don Gill
Middle L to R: Mike DiPietro, Rollie Gervis, Shannon Gibson, Terry Grunow (Manager), Kathy Gabrielson, Andrea Ratcliffe, Greg Gigliuk, Bob Guthrie
Front L to R: Gayle Morrical, Rhonda Barber, Lynn Miller, Leanne Eriksen, Bev Gigliuk, Nancy Gervais, Louise Holmes, Gene Ziebarth
in the future sections for the Interprovincial (Pins Over Average) and High Low events will make it to the Alberta website