Four-time Canadian Singles Champion Tom Paterson has written a new book called "Success Driven Logic".
Tom has two Open Singles Championships (1983, 2008) along with two Master's National Singles Championships (1985, 2001) and has taken that knowledge and combined it with collected thoughts by 42 other competitors, coaches, and administrators to produce a product that will help anyone from beginner to those with Canadian championship aspirations.
The book itself consists of 11 chapters, which includes an early history chapter, Editorials, an Appendix, and a Workbook option. At over 340 pages for the book and 82 pages for the Workbook, it is fair to expect the work within is detailed. Tom's goal was to produce a comprehensive work.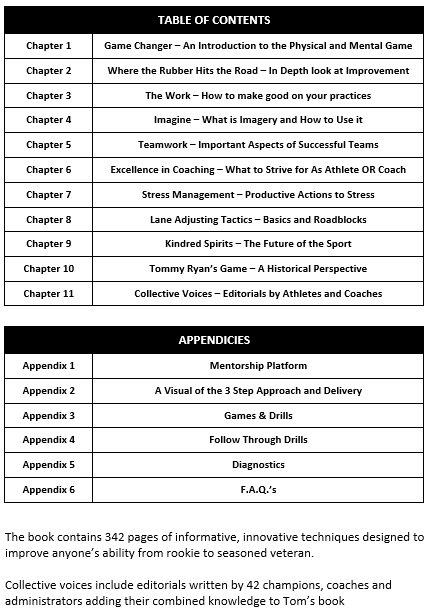 With the addition of the Collective Voices Chapter, the book was able to go beyond just the voice of the author. Our diverse bowling community had a keen interest in contributing to the project. The voice of our bowling community truly provided a broader opportunity for all of us to learn.
Another valuable contribution was the countless number of people who participated with the online surveys. The voice of the people via survey provided value in four main contexts, instruction, learning, communication, and governance.
Both books are 11 x 8.5 size book, coil bound. The Success Driven Logic book is also printed with a heavier 28 lb paper. Both come with a heavy weight cover complete with clear plastic cover to protect the books.
Should you be interested in purchasing a copy, please check out the options below.
Tom thanks you for considering making a purchase
Book Options
Option 1
Success Driven Logic (346 pages) – $45 – delivery and taxes included
Option 2
The Companion WORKBOOK (82 pages) – $25 – delivery and taxes included
Option 3
Success Driven Logic & The Companion WORKBOOK $60 – delivery and taxes included
Contact info for orders and Questions
Tom Paterson – Email – [email protected]
Phone Cell 306-227-1875